Safe Assessment Browser to deliver computer-based online exams
Use the secure assessment system, prevent cheating and protect the integrity of your exams.
Let's Meet
Try for Free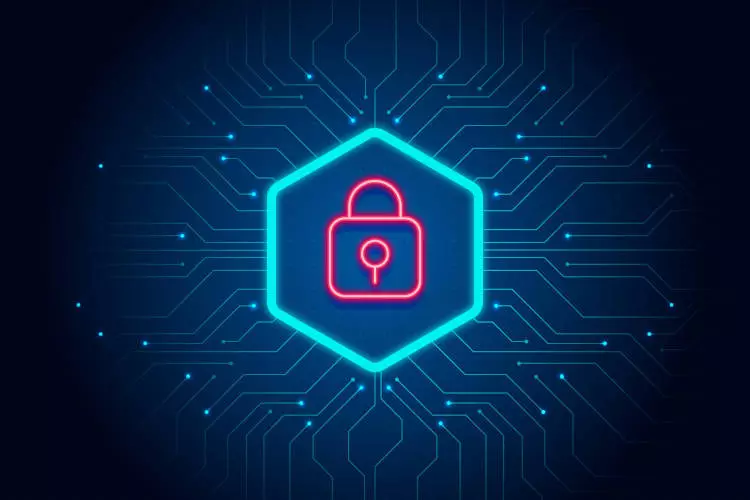 Who is using Testinvite?






Eliminate exam security concerns and assess test-takers with confidence
Testinvite safe assessment browser enables you to conduct secure assessments and protect the full integrity of online exams. The secure browser gathers highly advanced security measures and serves recruiters and trainers for their online assessments.
Now recruiters and trainers can;
Prevent Cheating
Prevent all cheating attempts from beginning to end of the process
Disable Browser Actions
Disable browser activities that can threaten the integrity of the exam.
Real-Time Procotoring
Proctor in real-time and proctor with screen and webcam records
Prevent Cheating by Test Operators
Authentication
You can use different authentication methods and easily verify test-takers with;
One or two credentials that you define
Auto-generated, unique invitation codes
Shuffling Questions and Test Order
Collect and label your questions in an extensive question bank and automatically shuffle these questions in different test orders for each test-taker. Thus, you can set an exam for test-takers with the same difficulty level but with a different set of questions.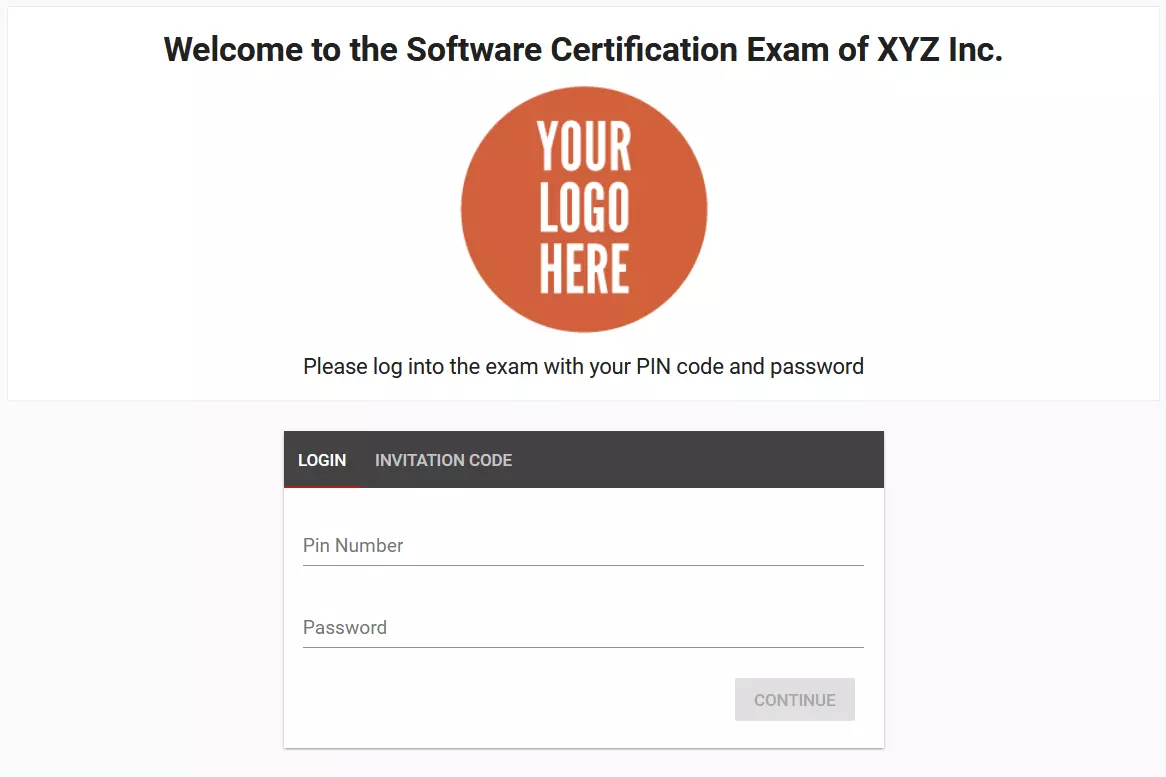 Browser Fullscreen Lock
You can force the browsers of test-takers to full-screen lock. With this precaution, you can prevent test-takers from navigating to additional browsers, screens, and windows during the exam.
Logging Browser Activities
You can collect detailed information about test-takers' actions. The collected information includes, exam & section starting times, violations of full-screen lock if any, navigation details of test-takers, and more.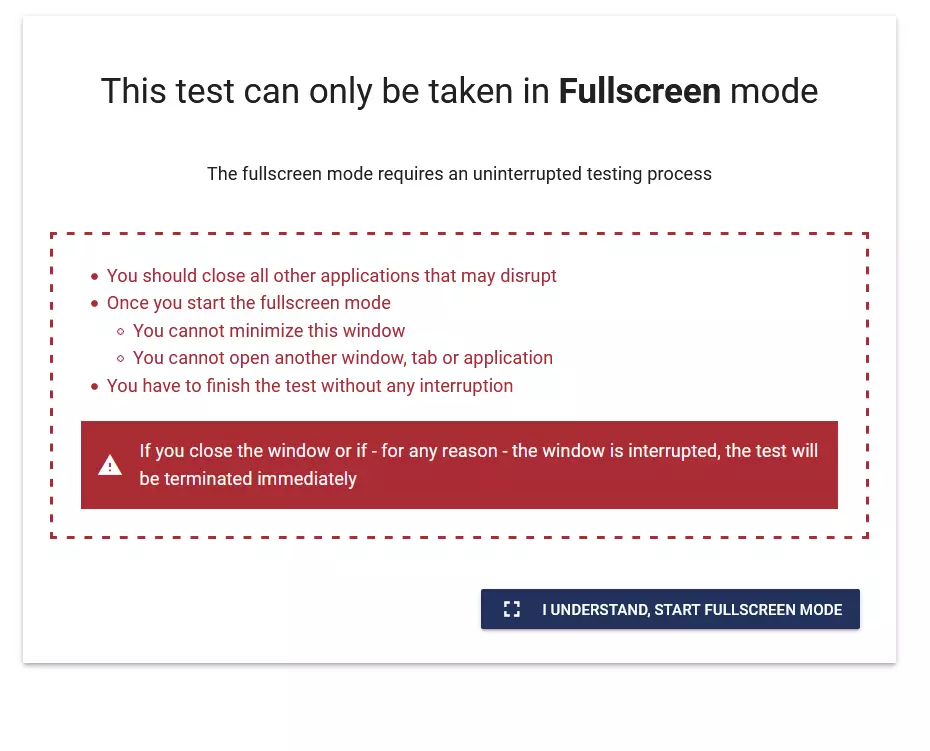 Prevent Cheating by Test Operators
Real-time Proctoring
You can simultaneously monitor each test-taker and exam environment with real-time proctoring.
Proctor with Webcam and Screen Records
You can monitor test-takers with webcam video and entire screen recording. Besides, you can periodically take photos from webcams and browsers of test-takers during the exam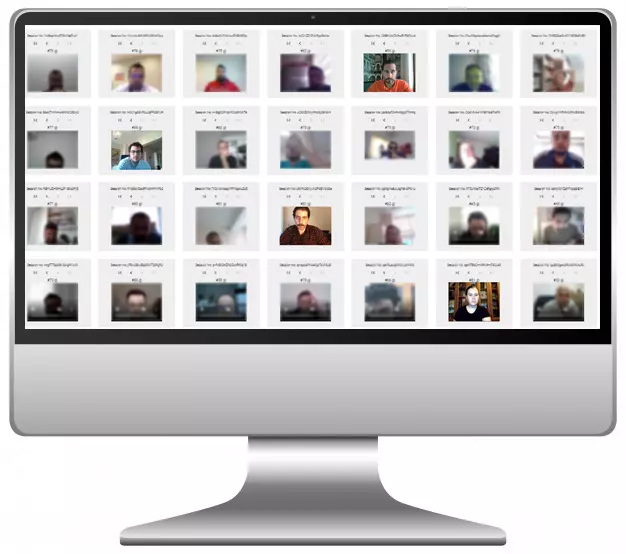 CASE STUDY

"Recording on webcam and using full screen lock are minimizing security concerns while applying exams to thousands of people at the same time."

Kubilay
CEO
Disable Activities of Test-Takers
Additional Tabs & Browsers
Test operators can disable multiple windows and browsers on desktops. They can force the test takers to "full-screen lock" during the test.
Other Applications & External Devices
Test operators can detect supportive tools and external devices of test-takers during the session with advanced logging. (Such as auto-translation tools)
Cut, Copy and Paste
Test operators can disable cut, copy and paste actions of test-takers. Thus, test operators can protect their test assets against possible test rules violations.
Printing
Test operators can disable the printer activities of test-takers. Thus, they can protect the online and secure exam environment, prevent a form of paper-based cheating activity.
Remote Proctoring Tool for Online Exams
One of the most disorienting factors of remote assessment is maintaining security. Since proctors aren't able to physically monitor the people taking the tests, security is considered neglected in online assessments. This stems from the thought that proctors cannot observe the people taking the test and their actions during the exam. However, online assessment tools deliver solutions to that obstacle as well. Owing to the remote proctoring features, proctors can visually observe the people taking the test. Through the remote proctoring software, candidates can be proctored either through their webcams or screen recording options. It is possible to conduct effective remote proctoring through the features that are offered by Testinvite.
Prevent Cheating with Safe Exam Browser
Testinvite's Safe Assessment Browser allows you to conduct safe and quick online assessments. With this secure online assessment system, you get the opportunity to keep your assessments reliable by preventing cheating. Either by real-time proctoring through webcam and screen records or limiting the test-takers actions in exams such as exiting full screen or opening new tabs, you can ensure the integrity of any kind of online assessments you are conducting. As the test operator, you can disable the participants' browser actions during the test. Cheating prevention is not only provided through proctoring measures but also through question arrangements. You can arrange or shuffle the order of the questions for each test-taker and assess each candidate with a different set of test questions.
Limitations and Security Measures During Online Exams
In the online assessment you are conducting, you can prevent cheating through certain limitations. By disabling the test-takers browser activities such as full-screen lock which forces the test-taker to stay in full-screen and prevent them from opening other tabs or applications. In addition to limitations, you can collect information about candidates' actions such as their screen time during the exam or any full-screen lock violations; this way you can track your candidates' actions and assure the security of your assessments.
Track and Record Online Assessment Process
During an online assessment process, it is possible to ensure the safety of the assessment through remote proctoring software. Online assessment conductors don't have to worry about the assessment's reliability anymore. You can monitor the assessment with live proctoring and track the process. The people taking the test can be monitored via their webcams throughout the examination. If the exam is conducted with a large group of participants, the people can be divided into groups with different proctors to strengthen the tracking of the exam. You can enable the screen recording feature and watch the screen recordings of each participant.