Troubleshooting access to cloud services
Identifying and resolving cloud services connectivity issues
Testinvite utilizes cloud services for delivering, monitoring, and proctoring online tests. It is necessary to have a device with unrestricted access to the internet and cloud services, specifically Google Cloud in our case, to ensure seamless test-taking experience.
One of the initial steps for test-takers to begin an online test is to ensure the connectivity of cloud services. The testing client attempts to establish a connection with the cloud services, and upon success, the test-taker proceeds to the next step.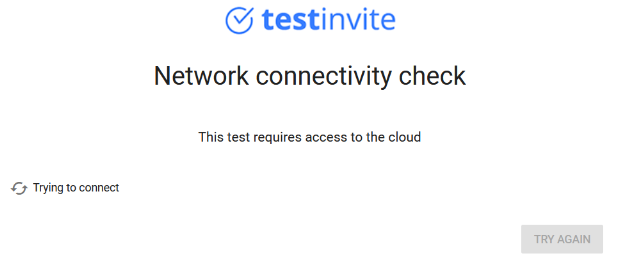 In case the connection cannot be established, the test-taker will receive a warning message that prevents them from proceeding with the test.
Troubleshooting
Make sure the following requirements are met to proceed with the cloud services connection control step:
Click this link and ensure that you see the Testinvite logo. If you cannot access the link, ensure that restrictions are not applied on your internet connection.
Go Back