Starting and Creating an Account
When you first visit Test Invite application with a web browser, the following Welcome screen will greet you and will force you to make a choice:
you can continue by creating a new or an existing Admin Account
or (without registering) by login in with a guest account.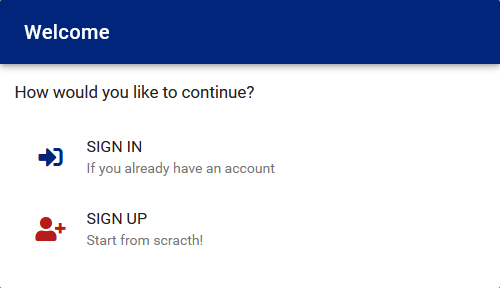 What you can do with a Guest Account:
You can administer your Organization,
You can add new Users, create & design Questions, Exams, Tasks to this Organization,
What you can't do with a Guest Account:
You cannot buy Credits:
You cannot send e-mails through Test Invite.
Applicants cannot take your exams.
You cannot access to marketplace.
WARNING
You might lose access to your data while using Test Invite with a Guest Account. To have permanent access to your data, you can always register your Guest Account for free. When you register, your Guest Account is upgraded to an Admin Account and all your data will be saved to this Admin Account (None of your prior work will be deleted).
Start Using Online Test Management System: Exam Center