Import Users via Plain Text
Adding Multiple Users by Typing
How to go to Import Users page:
From the Menu click to Organization Button,
On the opened page, click on Users box,
On the opened Users page, click on the red circle button on bottom right.
On the popup menu, click on Import Users button to go to Import Users page.
How to add Multiple Users by Typing:
Open the Import Users page.
Click on the Import users by pasting plain text button.
Import Users text box will appear which you can enter User information.
Required fields:
Full Name
Username

Username must be unique.
Same Username cannot be used even if the User, who was using the Username, has been deleted.

Password
Please note when creating Multiple Users by Typing:
If you want to be able to send an email to the Users later through the System, you need to enter a valid email address for that User.
You cannot set Active-Status, Roles and Tags from this field.

All the Users who are created through this process are created as Active, Regular User with no User Tags.
To change these values, you need to update the Users info afterwards.

Every individual User's info should have its own new line.

Every value on the same line is treated as it's been input for a single User.

You need to separate each value by a comma (,):

First type the Full Name and add a comma,
Then type the Username and add a comma,
Then type the Password and add a comma,
Finally type the E-mail address and add a comma.
Example:
You can create 4 unique Users if you type the values below to the Import User text box:

ahmet görcek,ahmetgorcek,12,agorcek@google.com
burcu songül,bsongul,klasjd8,burcus2019@hotmail.com
mehmet yılmaz,mehmetyilmaz,86_asd90,m.yilmaz99999@outlook.com
şafak çimenoğlu,safakcimen,jhkf94,safakcimenoglu1988@testinvite.com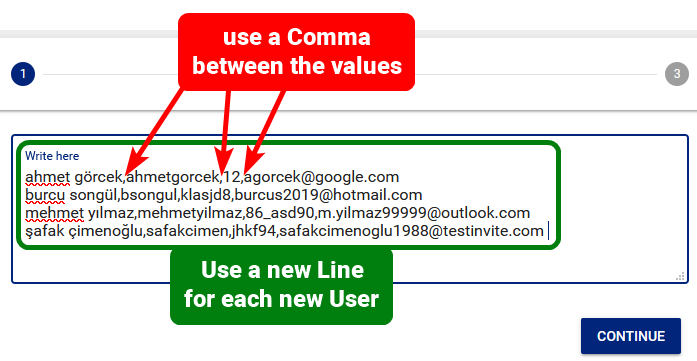 In the next screen, you will be asked to confirm the following fields:
fullname: Full Name
username: Username
password: Password
email: E-mail Address
If the fields are selected correctly, then to go to next step:
Click on Continue button,
You will see a preview of the Users.

The values you entered will be shown to you as on a table.

If there are errors, you can go back by pressing the Back button and correct them.
If everything is in order, you can click on Continue button and go to next step.
In this page, the values you entered will be compared to the values already in the System.
If everything is in order, you can create your new Users by clicking on Save button.
NOTE
You need to use unique Usernames for each new User you want to create. The system will not let you use the same username more than one time.
WARNING
You can only create new Users with this method. You cannot update current Users' information.
How To Import User Account to Online Test Management System
How To Import User Account to Online Test Management System