Assessment software to administer and conduct exams & tests for recruitment, learning validation and certification.
Join 15,000+ organizations from 70+ countries and start administering assessments remotely with best practices that promote academic integrity.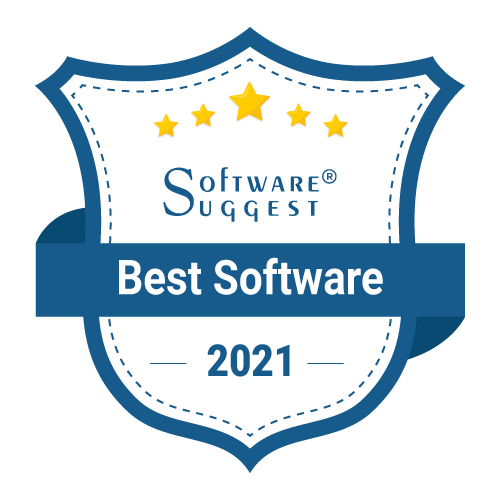 Only for businesses, schools, organizations and educational institutions.
Students and candidates, click here for more information.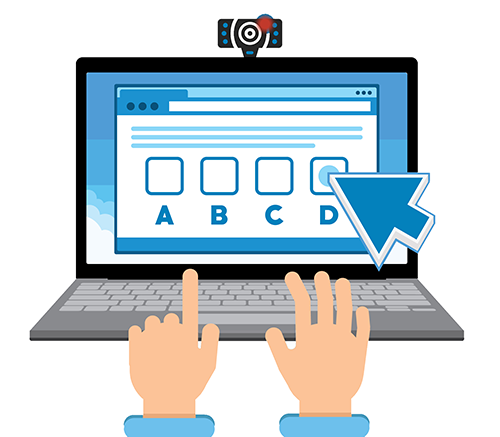 Trusted by the world's best






First time here? Read our welcome message to have an introduction about our product and services.

Test Invite is a full suite of software for administering remote assessments. You can bank your questions, create any kind of tests or exams, invite candidates, administer, monitor and proctor assessments and have insightful reports.
If you are looking for ready-to-use professional assessments, you can use the test library where we make available assessments on various competencies. Otherwise you can design your own assessment from scratch by using numerous question types. Our exam builder is among the best exam software having highly advanced features.
Testinvite is a modern, reliable and highly scalable concurrent assessment system that allows you to conduct simultaneous assessments to tens of thousands of people at the same time. Thanks to the live monitoring and real-time proctoring infrastructure you can have total control over the assessment process.
Webcam video recording, screen recording, lockdown browser, timers, shuffling, random question selection from question pools, navigation restrictions are all among the features that are available for making the assessment process more secure and promoting academic integrity.
The software is carefully crafted and designed. Hundreds of features have been organized thoughtfully. Every month, new features are implemented and made available to all customers. The solution provides an API so that you can integrate any kind of software like LMS or ATS. If you need further customization, integration or development, you can always make a request.
Testinvite is free to try without any time limitations. You can sign-up now and start playing around. You can book a free online consultation meeting. Our solution experts are ready to listen to your use-case and demonstrate how the product is addressing your requirements. Throughout your journey, you can book live support for 7 days a week and get our help to overcome any kind of problems. You can contact us by email, whatsapp or live chat.
When you are confident that the product is a perfect fit for you, you can start buying credits and delivering assessments. We offer a very simple pricing model that favors you in all stages. There aren't any hidden fees and long-term commitment is not required.
Testinvite is used by businesses, organizations and educational institutions from all over the world. 15,000+ customers from 70+ countries are using our product, for various use-cases from recruitment to learning validation, to certification, to exam practice. We onboard new customers every month.
I hope this is a nice introduction for you. Please do not hesitate to get into contact with us so that we can help you achieve your goals.
Award-Winning Test and Exam Builders
Comprehensive features that allow you to design any assessment process, from personality inventories to psychometric tools, from coding tests to English speaking exams.
Creating Test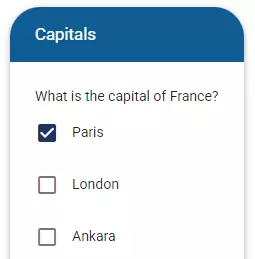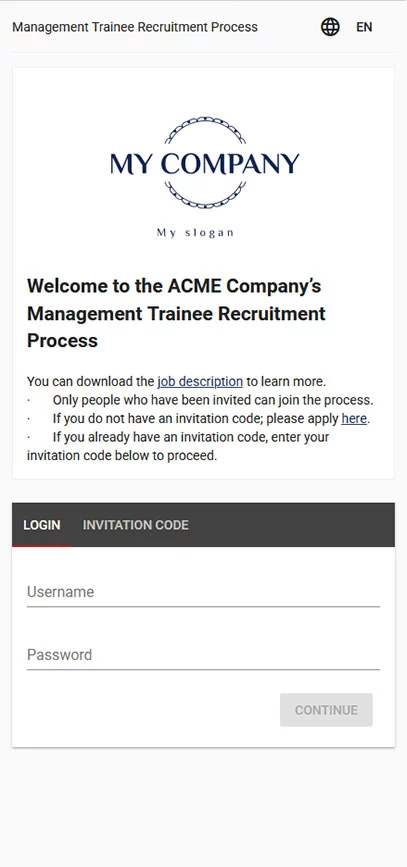 Online Assessment Software
Customize the assessment process end-to-end
Tailor everything according to your needs, from invitation e-mails to candidate landing pages, to access methods and test reports.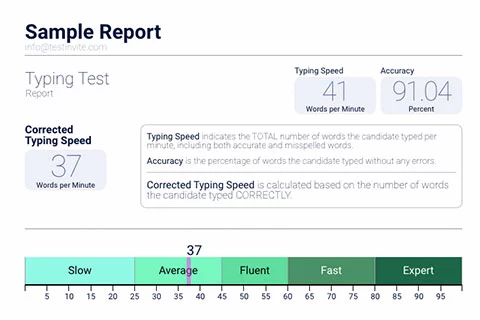 Design custom reports for your tests.
Competency assessment software for all kinds of skills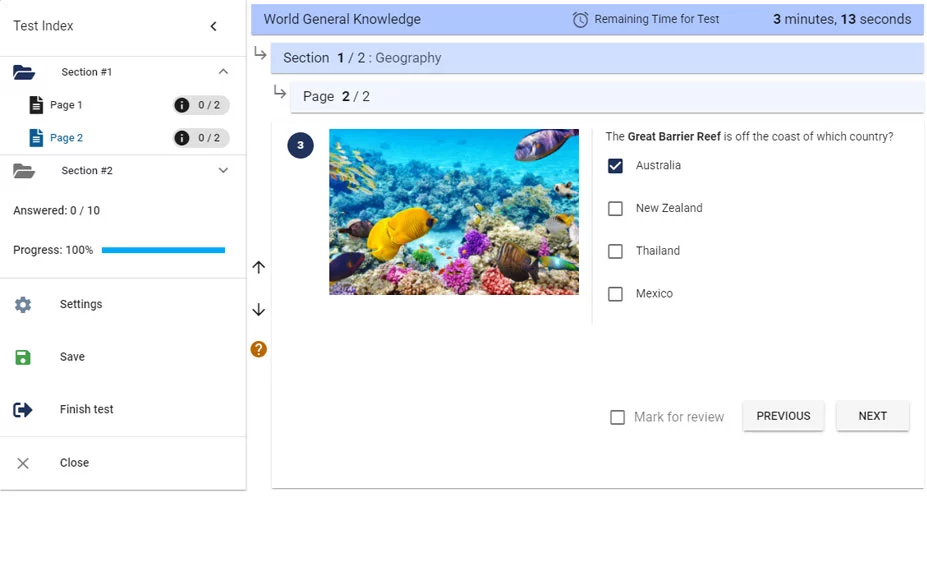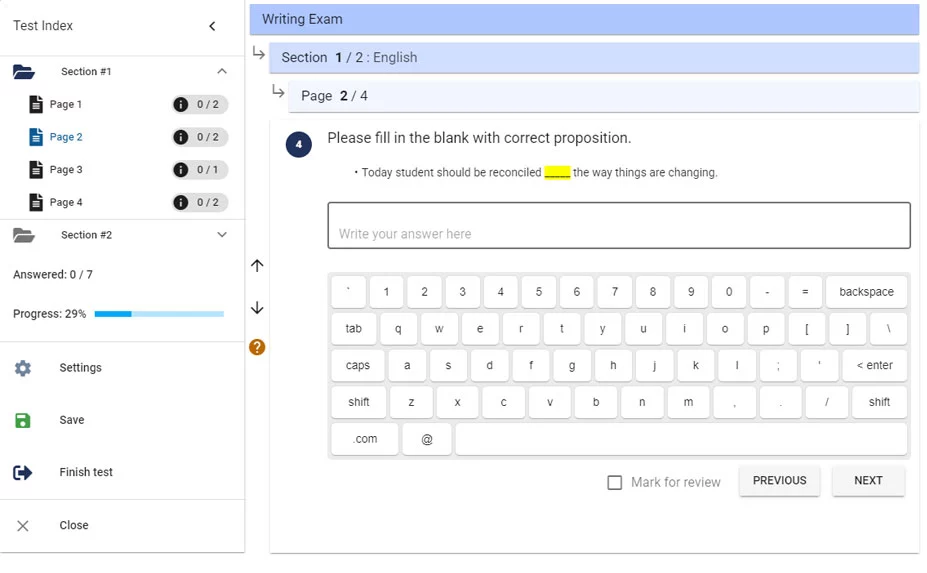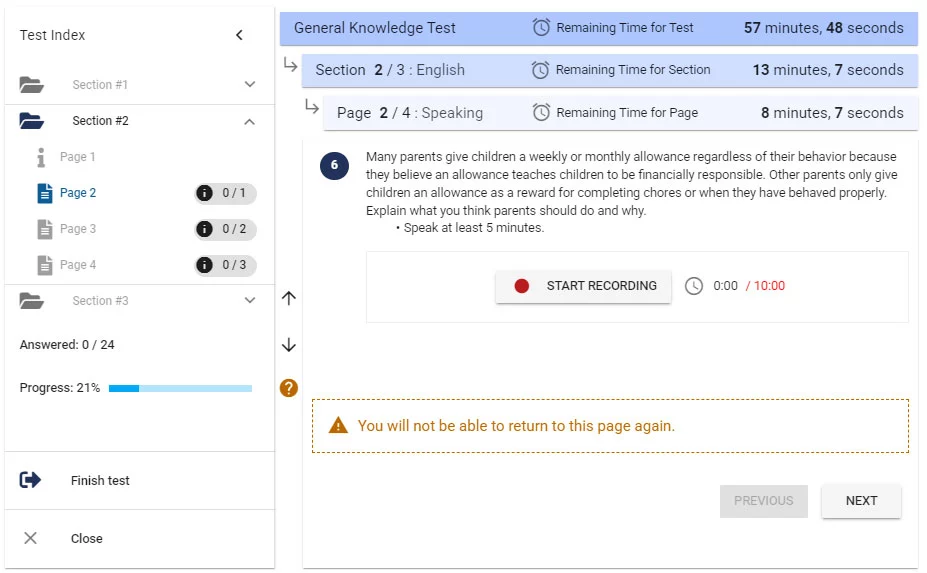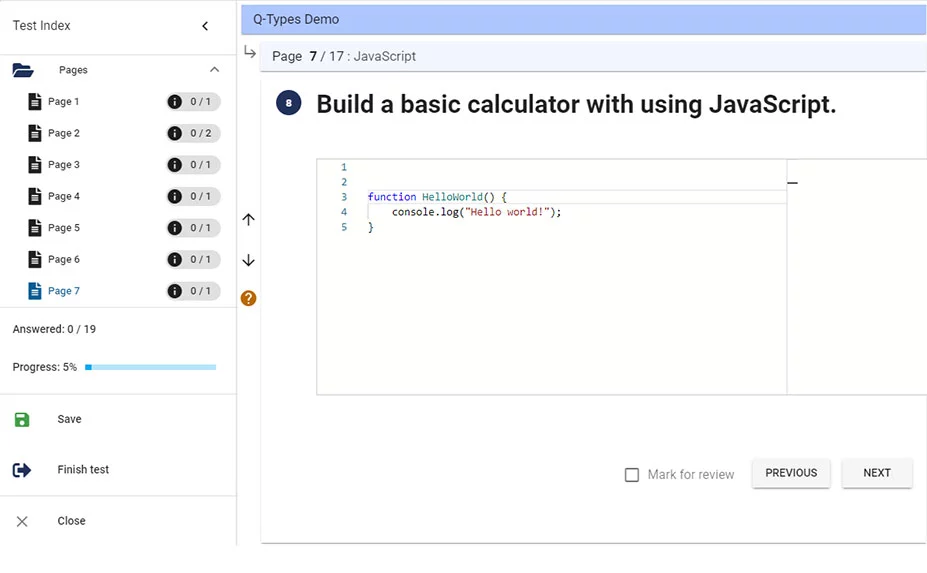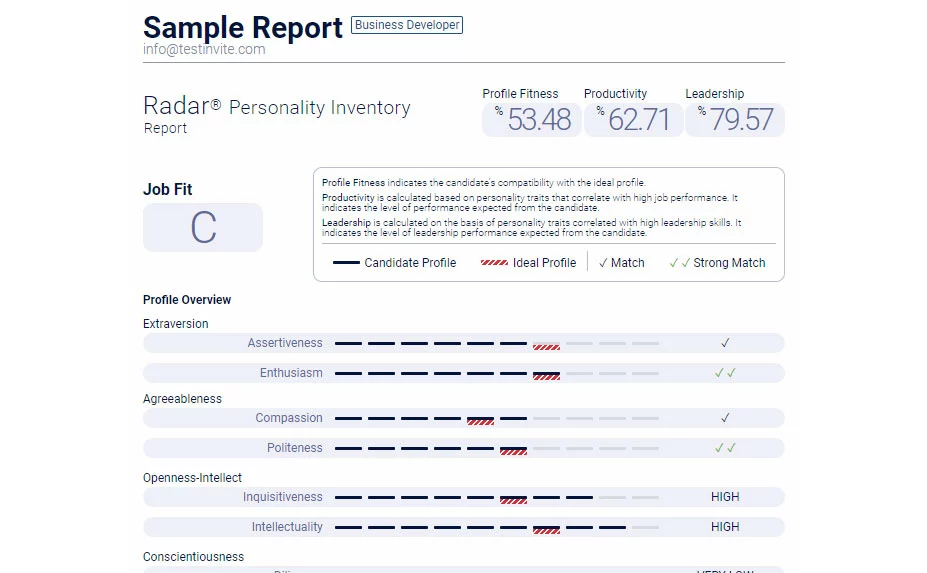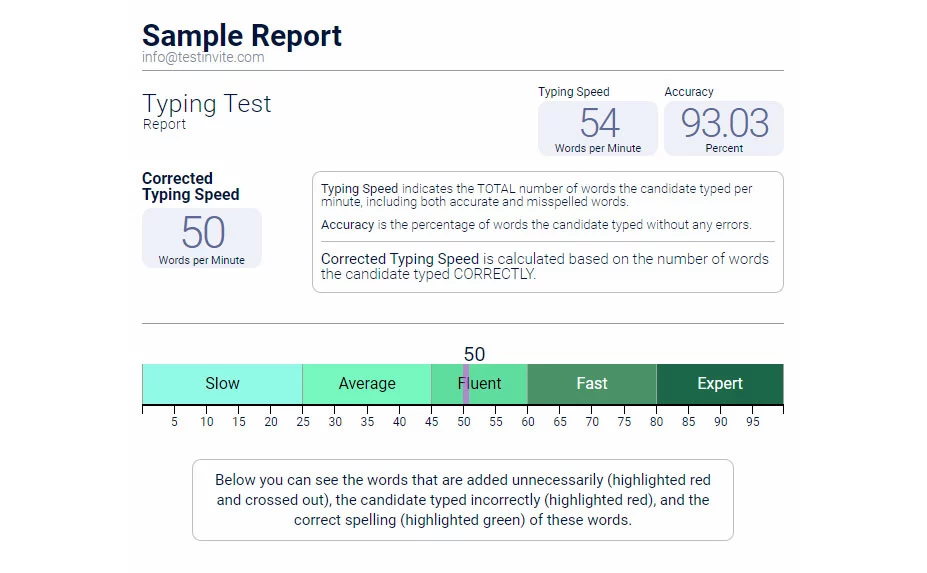 Online assessment platform with ready-to-use tests and inventories
Assessment Library
Ready-to-use tests and inventories that can be used in recruitment and promotion processes.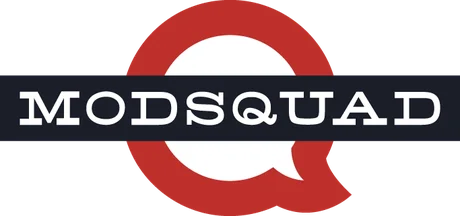 "We benefit from tests inside the assessment library in our recruitment processes. It meetens us with the right candidates via ensuring accurate evaluation of competencies."

Jennifer
Recruitment Specialist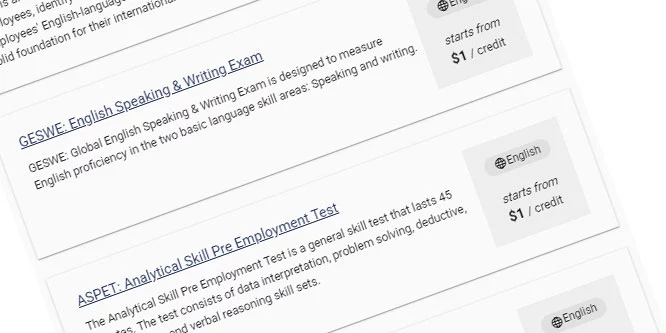 Personality Inventories
Identify proper candidates through personality tests and competency inventories prepared according to the position.
Language Level and Aptitude Tests
Use assessment tests in various domains such as abstract and critical thinking, fast keyboard use, English speaking, and aptitude testing.
Proctoring Software
Proctors can watch live both webcam and screen recordings videos of all the exam participants.
online proctored exam
online proctored test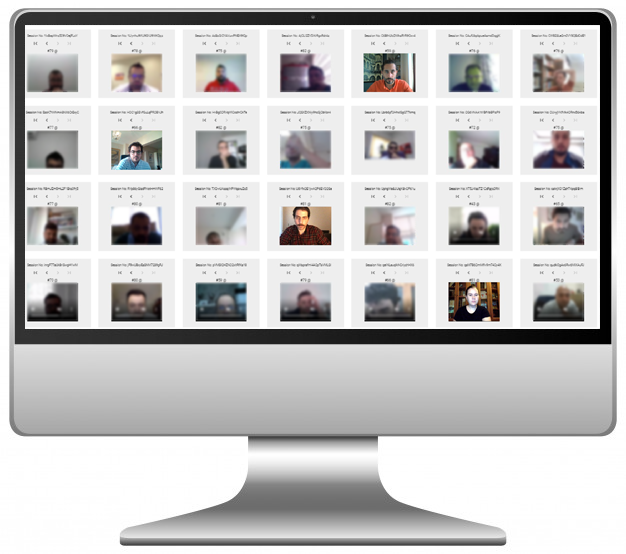 100% Cloud Native
Proctor thousands of exam participants in real-time.
Request a demo
Build your own proctoring team, create an account for each proctor.
Divide the participants into groups and assign each group to a proctor
online proctoring
live proctoring
remote proctoring
video proctoring
Ensure assessment security, avoid misleading results.
Minimize cheating possibility and prevent taking unfair and costly wrong decisions.
—
Shuffle questions, sections, and pages
Order differently sections, pages, questions and the options in your tests and exams.
—
Avoid asking same questions
Do not ask everyone the same questions. Create question pools and set up sections and pages in your assessment tests that can be selected questions randomly from the pools.
—
Apply multiple time limitations
Apply time limitations not only to assessment tests but also to their sections and pages separately.
—
Set restrictions for backward and forward navigation
Divide assessment tests into sections and set different backward and forward navigation restrictions on each section.
—
Apply screen lock
Prevent candidates from opening other applications, browsers, tabs, and etc. during assessment tests.
—
Record webcam and screen
Record candidate's screen and webcam throughout the assessment tests. Watch all records simultaneously with tests or after them.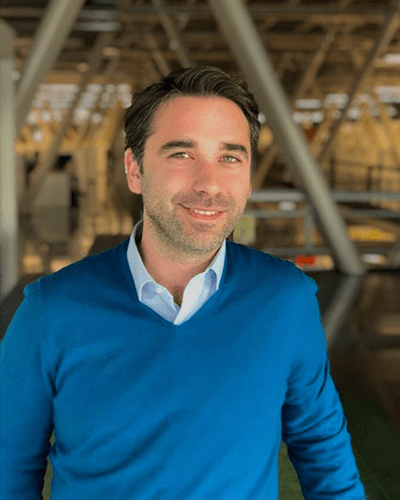 I've finally found a resilient online exam software. Exam editor and the question bank software are very powerful. The software is so flexible that we can administer both the pre-employment tests and post-tests on the same platform.

---
15,000+
organizations of various kind use Testinvite.
conduct test
conduct exam
A comprehensive platform where you can conduct all your assessment and evaluation processes
Testinvite is used for various purposes in several domains, from companies to schools, from hospitals to call centers, from corporate training institutions to guidance services. Different assessment, leveling, selection, and placement processes such as training, recruitment, certification, and promotion are administered via Testinvite.
Distance Education
Recruitment
Promotion
Certification
Personal
Development
Preparation
for Exams
Consultation
Leveling
Selection
Placement
Competition
Bursary
IS Testinvite A GOOD FIT FOR YOU
Learn more about the Online Exam Software in 3 steps
Try

Take demo exams and see the exam software in action.

Watch

Watch the video tutorials to learn how the admin panel works.

Let's talk

Let's discuss all the details in an online meeting.
Online Exam Software
Institutions from 70+ countries use Testinvite
administer test
administer exam
I would start administering online exams earlier if I knew that it is that easy.
The most critical part is being able get the support during the examinations. The support package is exactly what we are looking for.
We are using online assessments for many years. We have saved a huge amount of money by moving to Testinvite.
Why Testinvite Online Assessment Software?
Testinvite, has been operating since 2015, is an online assessment software that allows companies conduct any test, exam or inventories remote and safely.
More than 15.000 customers from more than 70 countries manage their processes such as selection, placement, promotion, recruitment, English leveling, and certification, remotely via Testinvite Assessment System.
Our customers, including various institutions such as schools, universities, hospitals, international companies, test centers, language schools, training centers, and exam prepataion courses, prefer the Online Exam Program due to its ease of use, advanced management, reporting and analysis tools, security enhancing methods, and flexible credit-based pricing opportunities. You acn also try Testinvite for your assessment processes.
Conduct Assessments Safely
Testinvite Online Assessment System offers several features and methods improving exam security in order to minimize safety risks of remote exams, to prevent undesirable situations that can harm fairness and merit such as dishonest attempts, cheating, getting help.
Methods such as video recording and taking photos of candidates via webcam, screen locking, screen recording time limitations, random ordering of questions, live proctoring of participants, are among our applications ensuring the safe administration of online assessments.
English Level Tests, Aptitude Tests, and Recruitment Exams
Some of the most significant features of the Online Exam Software Testinvite are English level tests and aptitude tests that are employed in recruitment processes. Testinvite has different features making it easy for recruiters to evaluate candidates' English proficiency and assessment processes. You can easily evaluate whether candidates have the necessary skills for the relevant position via useful features such as ready-made exams, question banks, detailed result reports and many others.
Create Online Tests in the Online Assessment Platform
Features such as conducting simultaneous exams for more than 50000 candidates, live proctoring of exams, intervening in the problems immediately either by re-establishing or by ending exams, live monitoring candidates' and their screen records via webcam render Testinvite ideal online assessment platform.
Features such as reporting exams according to sections and achievements, analyzing questions and answers, exporting, and advanced visual reporting also allows our customers to obtain maximum benefit from assessment tests.
Online Exam Builder
Testinvite's online exam builder allows you to create state-of-art tests and inventories. You can divide your exams into different sections, set time limitation for each section and page, and set restrictions for forward-backward navigation between sections, pages, and questions.
The online test builder allows you to link test and question banks via question pools. In this way, you can create tests composed of random questions which are taken from question pools based on question banks and take precautions aaginst cheating situations that may occur in mass exams.
Remote Exam Proctoring
Besides all of its features allowing users to experience good examination processes, Testinvite can be seen as a proctoring application too. In virtue of online proctoring software's features, examination processes of educational instutitons and assessment processess of companies are safer now. We, Testinvite team, will happily serve you for your online proctored exams, tests, and assessments.
Assessment Services
Testinvite is designed in such a way that you can conduct your assessment processes without any support. We provide you the information needed in virtue of dozens of video narrations, user guides, guidelines and FAQ section.
We also provide on-demand support for companies. We promise you all kinds of support from creating question banks to sending exam invitations, to live support may be needed during exams, to preparing detailed and customized reports after exams.
Online Exam Software for Instructors, Teachers and Trainers
Create and deliver both formative and summative assessments. Get detailed reports.
Learn more